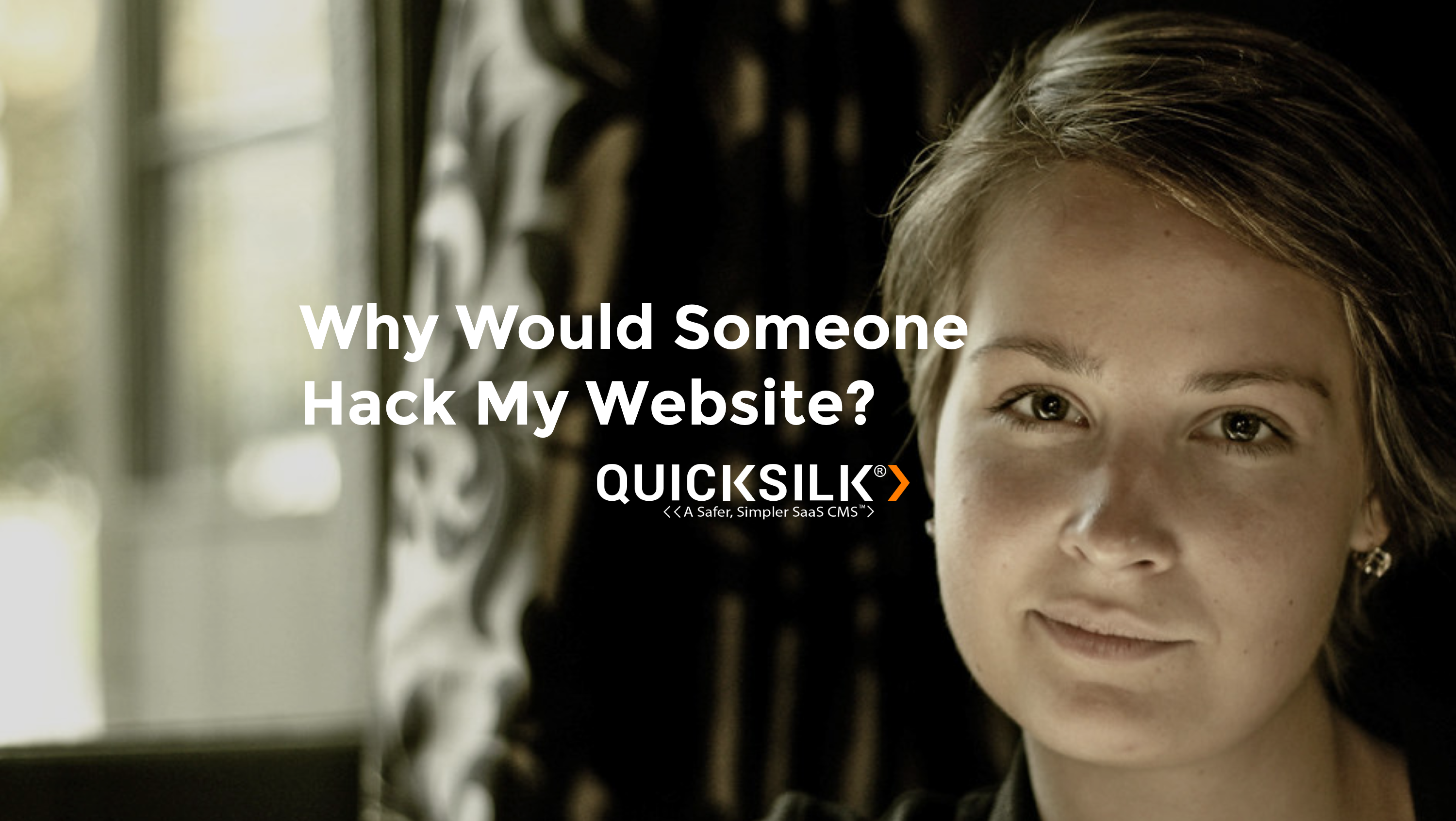 The question every business owner asks, "why would someone hack my website?", is best answered in two parts. First by reassuring you that it is (most likely) not an attack against you personally, but rather a simple coincidence; and secondly by identifying the number one thing that motivates criminals to launch an attack against your website.
Automation Makes it Simple to Attack Your Website
The greater number of cyber-attacks against small and medium-sized businesses - particularly those websites using open-source software like WordPress, Joomla and others, are predominantly automated. This simple automation provides cyber-attackers with:
Mass exposure, which significantly increases their odds of success
Less overhead
Tools for everyone, regardless of skill level
Most Website Attacks Are Intentionally Coincidental
Cyber-attackers are not targeting specific small and medium-sized businesses. These attacks are better categorized as opportunistic attacks. Meaning that it is not any one individual that is intentionally trying to hack the SME's website, but rather it is a coincidental occurrence.
Imagine a trawl (a fishing net) randomly trawling the web. The hacker's net could catch something simple, like a missing plugin or theme update, or maybe an outdated version of an open-source platform. The trawling is continuous, always scanning for opportunities. And because it is automated, once your website is on the list of potential victims, it is repeatedly checked for vulnerabilities.
Unlike popular open source website software, the QuickSilk CMS web solution provides automatic security and performance updates, which eliminate the need for you to be constantly monitoring vulnerabilities and maintaining the integrity of your website.
Don't Underestimate The Value of Website Traffic
The second part of the answer to "why would someone hack my website?", is "motive".
Now that we have established that in most instances the hacker's attack on your website is not against you personally, we know it is motivated by something; or, some things.
It is no surprise that at the top of the list of motivators is money. Financially motivated attacks, such as Drive-by Downloads and Black Hat SEO campaigns, are attempts to make money from your website's audience.
Drive-by Download
A Drive-by Download occurs when a hacker deploys a payload, such as injecting your website with malware, in an effort to infect your website's visitors. Often, a web page will contain several different types of malicious code, in hopes that one of them will uncover a vulnerability on your computer.
Once upon a time you had to click to "accept" a download or install a software update to become infected. Nowadays, even a quick visit or "drive by" to a compromised web page is enough to allow dangerous code to be installed on your device.
Black Hat SEO Spam
Although not as devastating as Drive-by-Downloads, in many instances Black Hat SEO spam campaigns are more lucrative. In this instance, the cyber-criminal may redirect your audience to their own pages that generate affiliate revenue.
Black Hat SEO cyber-attacks are especially dangerous because they may go completely unnoticed. There are several covert ways hackers can alter your content, including at the HTML level, where only a careful audit of the website's code can reveal what harm has actually been done.
These cyber-attack are most prevalent in the pharmaceutical sector, but are also beginning to appear in other industries; such as gambling and fashion.
Final Thought
Website security is about risk reduction, not risk elimination. Because cyber-criminals will search endlessly for vulnerabilities, the risk to your website can never be eliminated. Your best course of action is to employ tools and strategies that protect your website and reduce opportunities for a cyber-attack.
QuickSilk's multi-layer enterprise security architecture reduces your organization's attack surface, without compromising ease-of-use or affordability.
GET STARTED with your FREE TRIAL of QuickSilk here → https://www.quicksilk.com/signup.