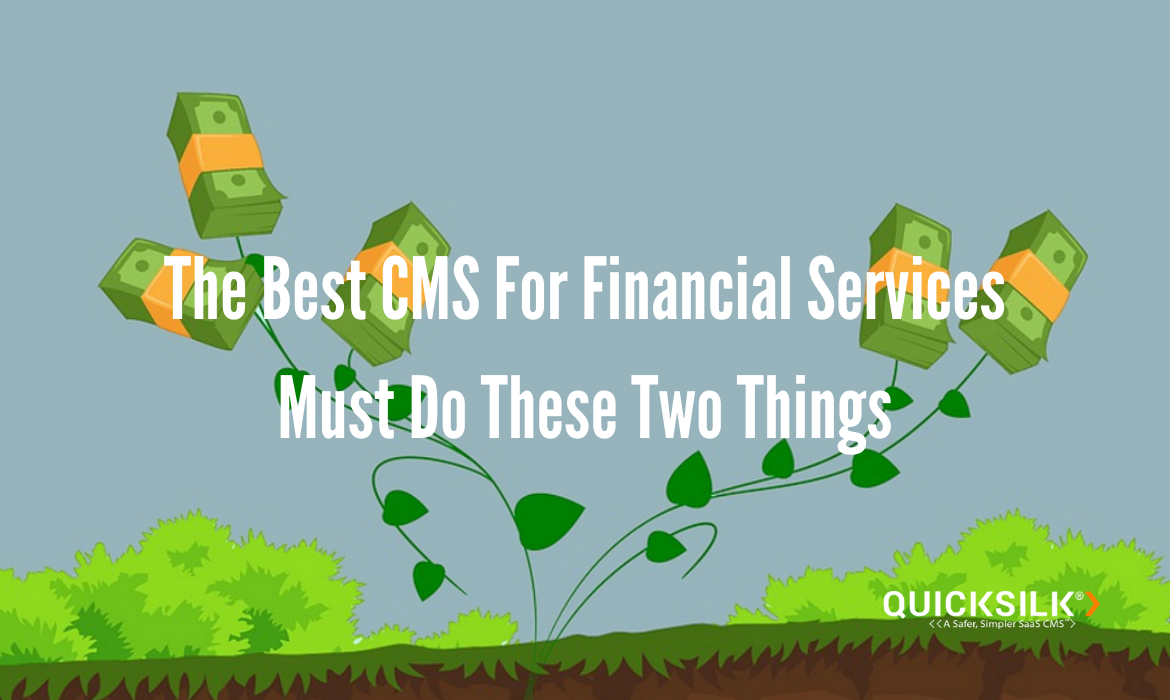 To be the best content management system (CMS) for financial services providers, a CMS must perform two things safely and securely: store information and communicate effectively with customers.
Storage of Sensitive Information
The financial sector processes and stores extremely sensitive and valuable consumer data. This trove includes Personally Identifiable Information (PII), check routing data, confidential, proprietary investment strategies, and much, much more. Without question, any breach of this sensitive information could adversely affect client financials, the organization's brand reputation, and customer loyalty.
With very little effort, cyber-criminals can gain access to the most sensitive personal financial information. The cost to purchase stolen credit card data on the Dark Web is approximately $8 to $22. Generally, prices are higher for stolen Canadian, European Union, and Australian credit cards. The cost of purchasing an online banking account is 0.5% to 10% of the account's balance. Complete identification packages are sold for $30.
Content management websites - and their sensitive files - are hosted, or "stored", on special computers called servers. These servers are provided by a web hosting service and are a lucrative target for cyber-criminals.
Hosting
Although the popular shared hosting option is seen as the most economical solution, it can be dangerous, if not properly configured, and can compromise your organization's security. The best way to explain the potential threat of shared hosting is to use an apartment building analogy:
Imagine you have an apartment (website) in a building (server) with thousands of other people (shared hosting). You share common spaces such as the elevator, the stairwell, hallways, and the building's lobby.
Consider for a moment that someone forgets to close their window, and a thief breaks-in and gains access to the building's common areas. Now, there is a thief lurking inside, looking for opportunities to break into other apartments.
The threat is not limited to break-ins. Even poor maintenance can become a security issue too. For example, if one tenant has a plumbing leak and neglects to fix it, the leak could spread and affect other apartments. For these reasons, it is recommended that financial services providers have their own secure building with a dedicated and diligent superintendent/security guard.
To preserve the confidentiality and integrity of data collected and stored by organizations, the best CMS for financial services providers must provide ironclad hosting - with around-the-clock monitoring, testing of all software updates, and dedicated IT support.
Communicate With Clients and Prospects
Providing financial information quickly and efficiently, and in a way that is easily consumed by customers, is very important to financial organizations.
Content Personalization
When choosing the best CMS, having the ability to manage and control private content is an essential feature. Financial services providers must have the ability to set rights and permissions by user, group, and department. Furthermore, these restrictions should be enabled by page, by post, and by element, to ensure restricted access when necessary.
Microsites and Client Portals
Often, financial organizations need to communicate their programs and incentives to clients and prospects. The best CMS should allow for the creation of secure web pages that can be customized for each promotion, ideally using a simple drag-and-drop website builder.
To capture leads and information from interested visitors, a form builder should be easy to integrate, and allow for information to be collected safely. Essential features for web page forms include: drag-and-drop design - entry fields, shape, required entries, CAPTCHA integration, and internal email notifications.
Third-Party Integrations
Google Analytics, HubSpot, and MailChimp are examples of third party services. These applications deliver extremely valuable insight into a business' performance and provide a dependable means of communication with clients and prospects. Thus, the best CMS for financial services organizations must integrate seamlessly with popular third-party applications, such as customer relationship management and marketing integrations, so as to continue delivering vital insight to organizations and institutions.
Financial Services at Greater Risk
In North America and abroad, financial organizations are leading targets of cyber-attacks. According to a recent cyber-security report prepared by Boston Consulting Group, banking and financial institutes are 300 times more likely to be at risk of a cyber-attack than other companies. Regulators across the globe are taking notice, and are implementing new cyber-risk controls to address the growing threat of extortion, theft, and fraud.
Our CMS for financial services organizations provides the simplicity of a drag-and-drop website builder, with the multi-layer security architecture of a super-secure enterprise platform. You can depend on us to reduce your organization's attack surface and deter cyber-crime, without compromising ease-of-use or affordability.
GET STARTED with your FREE TRIAL of QuickSilk or schedule a one-on-one demonstration.